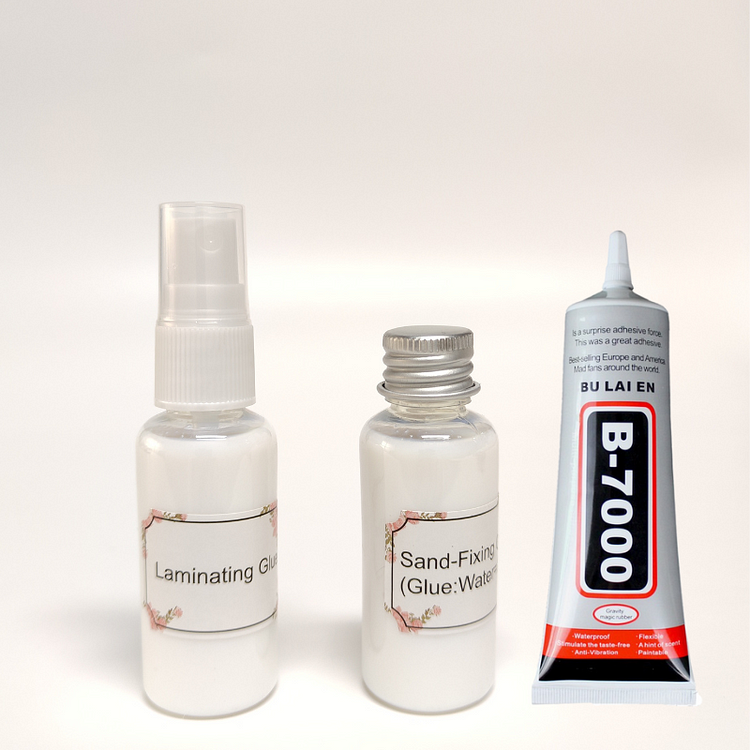 This set includes: 25ml wire-fixing glue, 30ml sand-fixing glue, 30ml laminating glue
25ml fixed line glue: Enough for pattern lines less than 30 meters.
30ml sand-fixing glue: Enough for a drawing board with a diameter less than 60cm
30ml laminating glue: Enough for a drawing board with a diameter less than 60cm
Wire-fixing glue
Used for: Fix the gold wire to the board.
How to use: Apply the wire-fixing glue along the lines of the pattern, and wait for 2 minutes before sticking
Sand-fixing glue
Used for: Temporarily fix the sand on the board, easy to modify the color
How to use: After coloring, spray sand-fixing glue(diluted with water, glue:water=1:4).
Spray vertically until the whole painting is wet and the color turns white. The sand-fixing glue is only temporarily fixing the sand. If you apply the wrong color or want to modify the painting, you can add a few drops of water to modify it.
Laminating glue
Used for: Permanently fixes the sand to the board, forming a waterproof layer
How to use: After using the sand-fixing glue, when the painting is about to dry, spray the laminating glue evenly until the whole painting turns white. After 30 hours(depending on temperature), the glue will dry out and become transparent. If the sand is not well fixed, you can spray the laminating glue again.
We know that some customers are worried about whether they will receive the goods when purchasing overseas, and whether the quality of the goods received is reliable. Now we provide a money-back guarantee to dispel your doubts.
With our 30-day money-back guarantee*, we stand behind everything we sell. If you are not satisfied with a product you have purchased from us, you can return that product to us within 30 days of purchase. and we will happily refund the original purchase price of that product provided the product and packaging are in their original condition and is re-saleable. We will not however refund delivery charges if the item is returned simply because it is unwanted.
*All products must be returned within 30 days for a full refund of the product price. Customers must contact us prior to returning goods. The return postage is at the customer's expense.
If you have any questions about the product, you can also feel free to contact us to solve the problem. Besides, after contacting us, if you think we can't solve the problem correctly, you can also contact PayPal or Stripe to get your money back.
How do I get a refund from PayPal?
In this kit, you'll get everything you need to make a cloisonne painting. We have prepared everything for you to create your own masterpiece!
Please Note: The picture is the finished display effect, The twisted gold wire at the edge of the painting board and the stand are not included in the kit.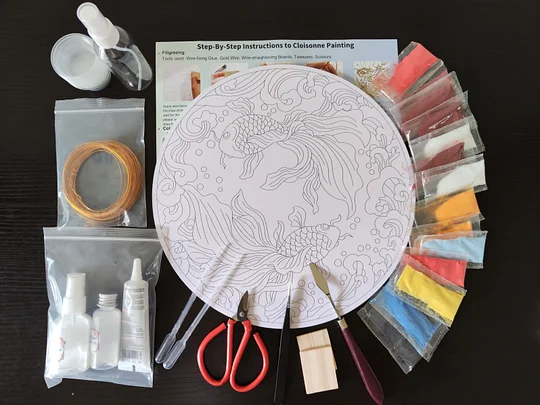 Package Inclusions:
Drawing Board * 1
Colored sand * Enough
Gold wire * Enough
Gold Wire-Fixing Glue * Enough
Sand-Fixing Glue * Enough
Laminating Glue * Enough
Tweezer * 1
Scissor * 1
Colored Sand Spatula * 1
Dropper* 1
Wire-straightening Board * 2
Sand Cups*6
Instruction* 1