What glue is used in cloisonne painting art?
Jul 25, 2023 by Cloisonnekit
There are mainly 4 kinds of glue that are used in the cloisonne painting art. Now we will introduce what they are used for and how to use them in detail so that you can better understand how to use them and make your own masterpieces.
Wire-fixing glue
Sand-fixing glue
Laminating glue
Resin glue(Not included in the kit)
Shop the Cloisonne painting glue set on the website: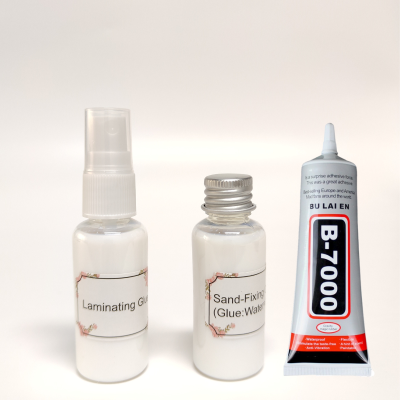 Wire-fixing glue
Used for: Fix the gold wire to the board.
How to use: Apply the wire-fixing glue along the lines of the pattern, and wait for 3 minutes before sticking
Sand-fixing glue
Used for: Temporarily fix the sand on the board, easy to modify the color
How to use: After coloring, spray sand-fixing glue(diluted with water, glue:water=1:4).
Spray vertically until the whole painting is wet and the color turns white. The sand-fixing glue is only temporarily fixing the sand. If you apply the wrong color or want to modify the painting, you can add a few drops of water to modify it.
Laminating glue
Used for: Permanently fixes the sand to the board, forming a waterproof layer
How to use: After using the sand-fixing glue, when the painting is about to dry, spray the laminating glue evenly until the whole painting turns white. After 30 hours(depending on temperature), the glue will dry out and become transparent. If the sand is not well fixed, you can spray the laminating glue again.
Resin glue
Used for: Forms a shiny protective layer
How to use: After the painting is completely dry, mix glue A and glue B in a ratio of 3:1 and apply it to the painting. (Not easy to operate. It is easy to cause the picture to be uneven. It is recommended that novices operate with caution to prevent affecting the overall effect.)